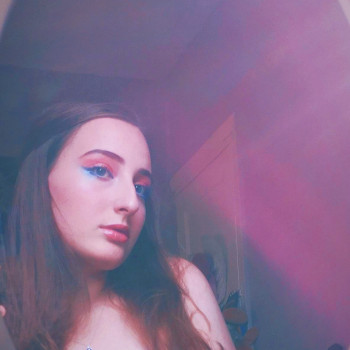 Eve Gowing
I AM
Fine Artist-Mixed Media

LOOKING FOR

University Course, Career Guidance, Internship

IN

Cleveland
With art I enjoy both the practical and theoretical skills that each discipline provides which is what I need guidance on. I love art history and I'd say it is a passion of mine as well as hands on practical fine art and design but it seems I can't do both at university. I want to build up my skills within each discipline so I can constantly progress, as personal growth drives my passions and ambitions.
Lately I've been appreciating victorian and pre raphaelite art as a movement as this is what I chose to study for my A Level art project in my last year. I really love learning about the philosophy behind the art and its meanings, how it shaped the current world and its importance in art history.
Set up for my 'Pre Raphaelite esque' photoshoot
One of my favourite things to do is to go to art exhibitions and visit galleries. Much like every other artist I love looking at all the different styles and trying to understand the meanings and where they gathered inspiration from. Going to galleries inspires me. My favourite gallery is the Kirkcudbright gallery in Glasgow as it has a wide range of art styles but mainly traditional 'high art' styles such as baroque and Renaissance, as well as the gothic architecture of the building itself being beautiful, in one of my favourite cities, it's impossible not to love.
KIRKCUDBRIGHT GALLERY, GLASGOW, 30/08/17
VAN GOGH INTERACTIVE EXHIBITION, YORK, 04/12/19
SCOTTISH NATIONAL GALLERY, GLASGOW, 23/08/19
LIANG GALLERY, NEWCASTLE, 15/11/19
Below is some of my sketchbook work throughout my college course.
Mark making and developing ideas with different materials
I also really enjoy amateur photography as a hobby with my friends, I've been doing personal photoshoots in a fashion photography style to anyone who would like them, free of charge as I found that it helps me develop my personal style. These photos are mainly portraits of the models. I just love the whole process of asking the client what they want to show and creating an environment to show their interest through photography that they can post on their socials after, to me it's all about making them feel good in themselves and having fun with it. I have also tried photographing local bands at local gigs just for fun and I hope to continue supporting this scene in the future with possible artwork if and when needed as there are a few photographers arising in this area. Below I have attached a few examples of these photos as well as some travel photography (landscape) and other bits.
Here is some work that I produced during my foundation course at The Northern School of Art. I completed various project themes such as Environment, Site, Juxtaposition, Installation, Mixed media, conecpt art/imaginary characters, Collage, Life drawing, Markmaking, ISM's and more. All these techniques and modules helped me realise where my creativity lies and my preferences within art.
Installation visualisation
Visualisation for installation
Comments
You need to be logged in to an active account to be able to make comments.