Create Your Future, Live Your Vision
Some of the most famous names in the arts began honing their craft from a young age, from artists to actors, designers to dancers and many more. So, we believe it is our duty as a society to support and nurture undiscovered and emerging talent and that's why we've founded Creative Portal, an online gallery and movement that celebrates the visual inspiration and creative innovation of the next generation of artists. By uploading their work, young artists will be able to develop their art skills whilst receiving public recognition for their work.
Connect and collaborate
We connect top artistic talent and undiscovered, emerging artists with organizations looking for talented people to fulfil a creative need within their business. From auditions to exhibitions, employment to supporting university applications, Creative Portal can open doors to opportunities you've previously only ever dreamt about.
Get found and get your work in front of the people and places that matter
Already have an online portfolio? We're about much more than images and videos, it's an entire online representation of you and your work, from your social media to your CV and much more.
Universities, employers and talent scouts, to name a few, are looking for people who stand out from the crowd and can show that they've gone above and beyond to be seen.
It's really easy to sign up and create your personal portfolio – and it's free!
Portfolios
Join 767 fellow creatives and upload your portfolio today!


With social media flooded with people promoting themselves these days, it's hard to know where and how to find true talent. Creative Portal showcases the work of talented creatives who are not only serious about pursuing a career in the arts, but have taken the time to become part of our online portal of ambitious, enthusiastic and, of course, talented emerging artists.
From employers to universities, colleges to agencies, in fact any stakeholders of the creative visual and expressive arts sector, we offer a dedicated channel to find the right fit for your opportunity and take away the endless hours of trying to come across artists by chance online.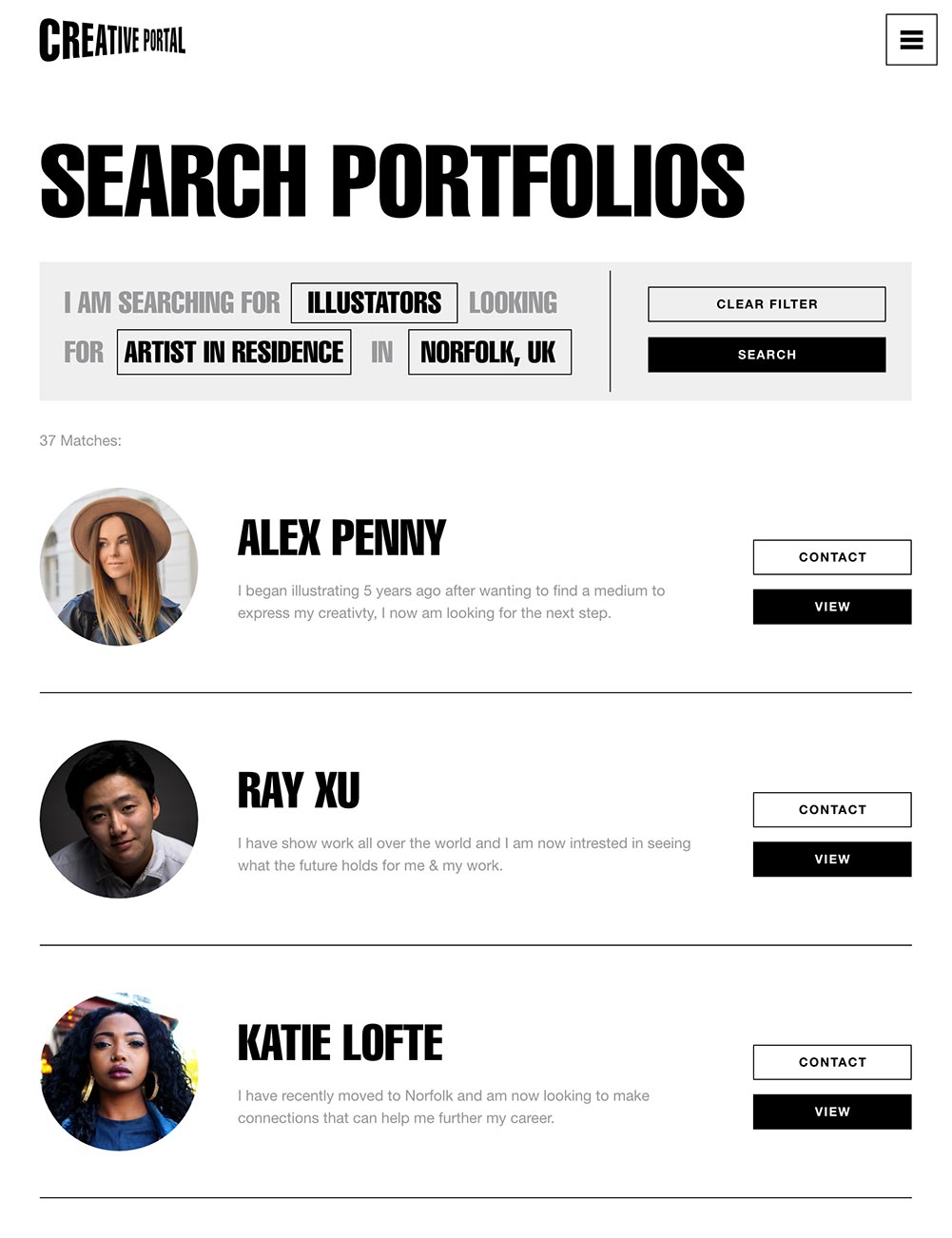 Search Portfolios
767 creatives with 239 fully uploaded portfolios.
To view the full portfolios with documents and contact details you'll need to have an account. If you've already signed up please log in, otherwise please create your account by clicking below.
Employers
Get your company in front of the best young talent. Advertise your vacancies with up to 3, full web page advertisements.
Creatives
Browse through the companies and jobs to get your career off to a flying start.
Thank You
The following people and organisations support our project.
Donate
If you'd like to support Creative Portal with a philanthropic gift to help individual creatives, groups or projects please click the button below to make a donation. You can then follow updates on the projects or people your gift has benefited on the portal and see the results of your generosity.