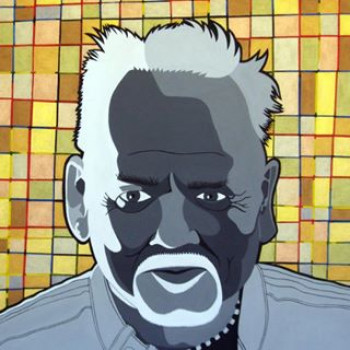 Brian Parker
Although I trained as a scientist and hold a PhD in chemical engineering I have had an involvement in the visual arts for over 30 years. I spent much of that time searching for the perfect shape and form through the medium of ceramics. In 2008 I enrolled on an 'Access to Art and Design' course and discovered a deep need to paint. As I painted I noticed that I see outlines and edges rather than volumes and that I have a very strong sense of pattern . My personal style of looking and depicting is evolving to incorporate these influences, together with a powerful sense of colour and a strong desire to simplify. You could say that I am now embarked on a search for the beauty found in the 'perfect' line . My approach to a painting is to include the absolute minimum of information and detail necessary to convey my personal view of the composition and to do so with the minimum palette of flat colours. I am a visual artist and my aim is for my work to stimulate the visual sense and leave the viewer with a feeling of pleased satisfaction. I am much more interested in the aesthetic produced by the work than I am in its thematic content, which ranges from figurative to the purely abstract. As some one who has spent a life time looking at art my influences are many and varied although mainly at a subconscious level. Artists currently in mind include David Hockney, Patrick Caulfield, Egon Schiele, Charles Sheeler and Charles Demuth.
I AM
Please Select

LOOKING FOR

Please Select

IN

Please Select
70x50 cm acrylic on paper 2020. I was walking back from a show when I saw this scene at Regent's Canal, it had to be painted. It's a finalist in the 139th Royal Ulster Academy of Arts annual exhibition.
Venetian Sunshine 70x50 cm acrylic on paper 2020. It's all about the light and shade.