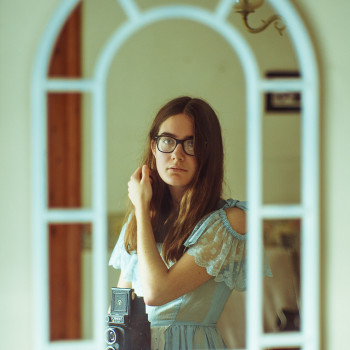 Taryn Everdeen
I'm a young creative specialising in portrait photography and videography, particularly interested in using my skills for social change. Enthusiastically involved in the community, I divide my time between various projects, appearing regularly on BBC Radio Norfolk for interviews, advocating for youth voice and inclusion.
My work so far has largely been based around gender equality and the female experience, exploring the period taboo, celebrating women's body hair, and highlighting just how common sexual harassment is. My film 'Stolen Skin' explores this last subject, depicting how it feels to experience sexual harassment through a spoken word piece with music and visuals. Well-received on social media, the film was covered on local BBC radio and television, then went on to win Connect Her's international film festival.
My passion for sustainability developed through my participation in Bright Green Future, an environmental training programme for young people. This has given me a good grounding in sustainability issues, and I was given the opportunity to attend a range of conferences and events that deepened my understanding.
My gap year has been a period of immense personal growth and discovery, kicked off in August 2019 with an invitation to attend the International Congress of Youth Voices in Puerto Rico. I then spent a month with author Carolyn Meyer, finishing the first draft of our collaborative novel together. In November 2019, I spent three weeks in Hungary, working with an international team of volunteers to design and deliver music workshops for Hungarian school children. After that, I went inter-railing for a month, CouchSurfing with locals, discovering so many new languages and cultures. It's been a real journey, and along the way, I've been documenting the people I've been meeting through portraits and video interviews.
This September, I'm starting an arts course (specialising in photography and video) at the École nationale supérieure des Arts Décoratifs in Paris, with the aim of finding a way into the creative industry.
I AM
Film Maker

LOOKING FOR

Freelance, Grants and Funding, Sell My Work

IN

London, Cambridgeshire, Norfolk