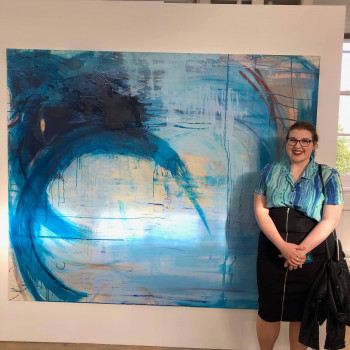 Taylor Davies
(taylorstellaart)
Hi, my name is Taylor. I studied Fine Art at North Wales School of Art where I got a 1st class honours degree. I work in oil paint, creating abstract landscape paintings around the theme of water and the sea. What interests me about the sea, is how it can be both calming yet powerful and aggressive at the same time - I try to bring these very different emotions together in one painting in order to create an artwork that has depth to it, and draws you in. The use of a blue palette creates a calming piece of work to look at, and means it is also suitable for any style of room; whether that is a commercial space or someone's living room.
While oil paints are my go-to medium, I also enjoy doing typography and various bits of lettering for people. I have written a couple of the food court signs for my local market and gallery space, Ty Pawb. Examples of this can be seen on my Instagram (@taylorstellaart) highlighted stories labeled typography.
I am also happy to take commissions for both large scale abstract paintings and small scale ones.
I AM
Fine Artist-Painter

LOOKING FOR

Teacher Training, Apprenticeships, Employment 

IN

Birmingham, Manchester, Cheshire
Unfortunately we've had to disable member messaging for now.